SUCCESS STORIES
We're proud of the veterans we support, read their stories of success
DANIEL'S STORY
Military service can push people to reach new goals. But for some who have served, life as a civilian can be even more demanding. Daniel's life after being a soldier started with huge adjustments, but with support from Walking With The Wounded's Employment Programme, he was able to build a new career and a positive way forward, with us by his side.
Facing the realities of war
As a teenager, Daniel already knew he wanted to serve his country in the military and become a soldier. At 16, he joined the Army - the Prince of Wales Own Regiment of Yorkshire. Within a year David received his first overseas posting to Northern Ireland. This was the first of many, travelling the globe to some of the most challenging war zones, from Bosnia to Afghanistan to Iraq.
It was during his first tour of Iraq, when Daniel was based in Basra, the emotional intensity of military service began to impact on his mental health. Basra was being extensively shelled, under constant bombardment and heavy mortar attacks for six months. A 2013 tour of Afghanistan was the toughest of Daniel's military career as a soldier. He witnessed countless traumatic and disturbing incidents, triggering mental health issues, including anxiety and sleep disturbances.
Enduring physical and mental injuries
Already living with significant mental health problems, David then suffered a life-changing accident in 2014, while training to become a Sergeant. He seriously injured both knees and despite treatment, the damage was irreparable. Daniel now needed a wheelchair and he was given a medical discharge.
Daniel found it extremely difficult to adjust to civilian life. It was a shock to be back at home, now with life-changing injuries. At this point, he felt abandoned by the Army and his mental health and wellbeing were at their lowest yet.
Finding a new life as a veteran
With the support of military veteran charities, and using his drive, skills and energy, Daniel began to make positive plans for life with a disability after military service. He had supported Walking With The Wounded already, and connected with Help For Heroes, who helped him take part in the 2018 Invictus Games in Australia. But Daniel wanted secure employment as a veteran. He became the first person to receive an Open University Disabled Veterans' Scholarship Fund, and gained a degree in Computer Science. He contacted Walking With The Wounded for support to find a job that could lead to a successful career.
Practical advice for those who've served
When Daniel met Jon, an Employment Advisor at Walking With The Wounded, they discussed Daniel's career hopes and expectations. Jon is one of our experts in veterans' employment and finding jobs for ex-service personnel. Together they developed Daniel's CV and discussed how Jon could use his networks to find a suitable career for a military veteran. Daniel attended an employment event at DXC Technology, an information technology services and consulting company.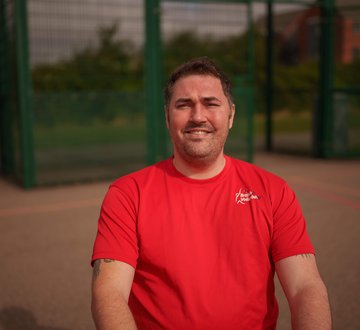 Moving forward after the military
But Daniel's aspirations as a civilian continue to grow. He's looking to finish his degree, and is now part of Great Britain's Paralympic team, hoping to be selected for the 2024 Paralympic Games in Paris.
Your support changes lives

When we support veterans like Daniel, our services can really help turn a life around. But our life-changing services can't run without your support.