OUR STORY
Supporting military veterans to build better lives after service
A charity for veterans, founded by veterans.
Since military veterans Ed Parker and Simon Daglish founded Walking With The Wounded (WWTW) in 2010, we've led with a pioneering spirit. It's our mission to empower military veterans facing serious challenges to find their place in society again.
This bold and positive approach stems from the resilience and ambition Ed saw when working with injured military veterans. From the first expedition to the North Pole in 2011, we've been committed to showing the world the power and potential of veterans to climb higher, no matter what's in their way.
Wounded, not woeful
At the time Walking With The Wounded was established in 2010, many military charities were already raising funds for veterans. But the media's common perception of ex-Forces personnel was one framed by sympathy and sorrow for the fallen hero.
This wasn't Ed's experience when visiting his wounded nephew, Harry, who had lost both his legs in Afghanistan. Instead of an atmosphere of resignation, he found a ward full of young veterans brimming with competition, ambition, and drive. Who was going to run the fastest, jump the highest, have the best car, the best job. Each person, full of ideas for future success.
The 2011 North Pole expedition
Ed and his veteran friend Simon Daglish were planning an expedition to the North Pole. After visiting Harry, Ed knew this was the perfect way to showcase the courage and determination he had witnessed among veterans. He wanted to demonstrate to the world that even with injuries, ex-Army, Air Force and Navy personnel still lead fulfilling lives.
Initially, it was tough to get support for their idea. A North Pole expedition with wounded veterans had never been attempted before. But after meeting and securing the services of Inge Solheim, an experienced polar expedition guide who had worked with people with disabilities, momentum began to grow.
Ed leveraged his military contacts to secure practical support from the Army but more funding was required. Ed reached out to another veteran, Dick Turpin, Managing Director of Artemis Fund Managers, who got straight behind Ed's vision of showing the world what veterans could do.
The Royal seal of approval
As the expedition began to take shape, Ed had another idea how to radically increase the expedition's profile. He knew attaching a household military name to the team could supercharge publicity. With his connection to Prince Harry's private secretary, Ed was soon talking to the Prince, who offered his full support.
Prince Harry ended up trekking with the team for four of the 13 days across the polar ice caps, generating global media attention and sending awareness of WWTW stratospheric.
The North Pole is just the beginning
After the success of the North Pole expedition, Prince Harry took Ed to one side. "You know you can't stop now, you need to keep going." said Harry. With this encouragement, Ed began planning the next trip for the next year. An extreme expedition. Again, with wounded veterans in the team. But this time, to the top of Everest.
The 2012 attempt to summit Everest
Ascending the world's highest peak is a daunting prospect – unpredictable weather, freezing temperatures and altitude sickness, combined with the technical challenges of climbing a mountain.
A planned ascent from Nepal in May 2012 had to be abandoned before reaching the summit due to dangerous and unpredictable icefalls. And it turned out to be the deadliest year on the Mountain since 1996. Although a tough decision, the safety of the team was paramount and every member knew it was the right decision.
Providing services for those who served
As the charity's profile grew, Ed and Simon recognised that there were veterans who had fallen far from where they wanted to be. There were many cases where ex-service personnel needed more complex support across many different parts of their lives; many faced homelessness, were in jail, had mental health issues, and experienced other complex needs when transitioning to civilian life.
For example, when veterans were trying to retrain for a new career after military service, it was tough to access the right funding. It was a clear gap that held veterans back but could empower them into new careers and towards becoming more confident, active individuals.
This insight led to developing the First Steps programme in 2012, providing access to entry-level, formal, and vocational training for veterans seeking new careers.
2013 South Pole expedition
Undeterred by the challenges of 2012, WWTW organised an even more ambitious expedition in 2013. The race to the South Pole brought together three teams of wounded servicemen and women, joined by Expedition Patron, Prince Harry. Overcoming extreme conditions and pulling heavy sledges, they completed a journey of over 200 miles across the Antarctic Plateau, reaching the South Pole in December 2013.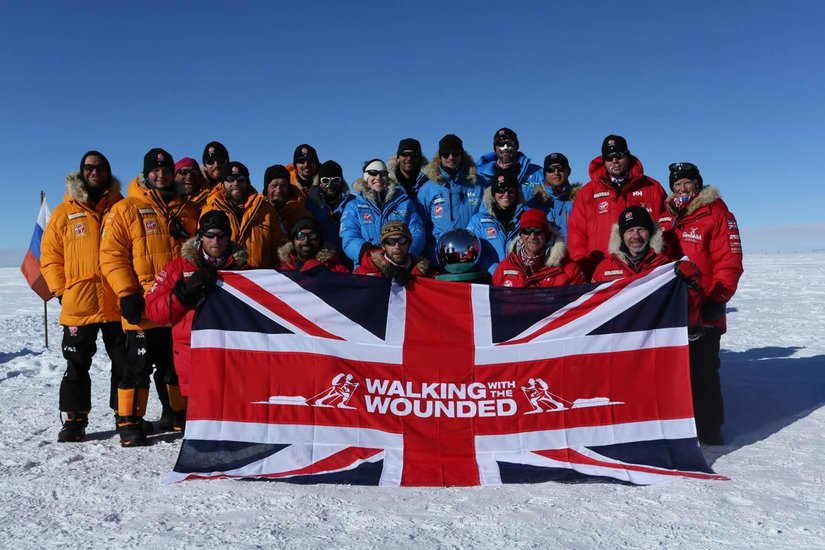 Growing and collaborating
With the success of First Steps, and with the untapped demand becoming obvious, the charity had to grow. Fergus Williams joined the charity as Director of Operations, driving forward support programmes for veteran employment after military service. But however quickly WWTW was growing, they needed more help. It was clear collaboration with big employers was the key. And there's no bigger employer in the UK than the NHS.
Their conversations with the NHS resulted in the creation of Step Into Health in 2014, a programme connecting skilled candidates from the Armed Forces community with employment opportunities in the NHS. And we're proud that Step Into Health is still working for veterans today.
Tailored support for when life gets hard
It became clear there was a desperate need in the veteran community for more intensive support. Not enough was being done around social issues. Ex-Forces personnel who needed help with housing, with legal defence, with mental health. People who had served their country and who had fallen between the cracks in society, and were unable to get the support.
This led, in collaboration with Help for Heroes and the Regular Forces Employment Association, to the launch of Home Straight in 2011, providing employment support for veterans without permanent accommodation and Project Nova (now Op NOVA), offering social support for ex-Forces personnel in the criminal justice system. Programmes that, over the years, have transformed the lives and futures of ex-service personnel and their families.
In 2015, we began our Head Start programme, offering 1-2-1 mental health and emotional wellbeing support for veterans and their families, helping them reconnect with those they love and the communities they belong to.
WWTW was now giving veterans who'd fallen the furthest from where they wanted to be the support and opportunities that they'd not had since leaving the military. But more than practical support, WWTW offered the opportunity of hope and fortitude.
2015 Walk Of Britain
In 2015, WWTW launched the Walk of Britain, a remarkable challenge involving walking 1,000 miles across Britain in just 72 days. The journey began in Scotland in August and concluded in London in November. Prince Harry, Expedition Patron, joined the team on two occasions, and the public also participated in the final mile down The Mall.
Walk Of America 2018
In 2018, a team of six military veterans, three from the UK and three from the USA, completed a 1,000 mile walk from LA, across America, ending successfully in New York. Through the journey, we wanted to show the incredible bond between the two countries, and use that shared history to highlight the sacrifice our military veterans have given to their countries, and that healing together can be as powerful as serving together.
The journey took the veterans through the extremes of terrain, temperature, weather and wildlife, but even through the hardest sections, the sense of camaraderie and fun was always there. The expedition was supported by Prince Harry and Jill Biden, once again highlighting the importance of our work with military veterans, and the power of collaboration.
The Walk Of Oman 2021 (Reimagined in the UK)
Despite the challenges posed by the global pandemic, in October 2021, a WWTW team of wounded serving and ex-military personnel completed their own Grenadier Walk of Oman, covering 350 km from Pen-Y-Fan in Wales to the Anglo Omani Society in London. While originally intended to cross the Omani desert, they adapted their plans to walk the equivalent of 10 marathons in the UK, raising funds and awareness for WWTW's vital services.
An ambition to never give up
WWTW remains a vital support service for ex-service personnel by embracing innovation and the ambition demonstrated by the original veterans who reached the North Pole in 2011

And the legacy is all around us to this day. Prince Harry set up the Warrior Games, the spark for the Invictus Games, because of his experience on the 2011 Polar Expedition.
Recognising different areas of the country have different needs, we started our Regional hubs so we could offer the most specific support to veterans. Starting with Manchester in 2015, we opened our North East hub in Gateshead in 2019.
These initiatives were followed by even closer working with the NHS to make sure services for veterans were as effective and efficient as possible. Through our shared expertise and commitment to the ex-Forces, we launched Op REGEN, a volunteering programme in 2020, Op COURAGE in 2021, a mental health specialist service designed to help veterans and personnel due to leave service, and their families, and Op CONNECT, aiming to reduce social isolation by bringing veterans together in 2023.
It's the desire to disrupt, to think differently, to change the status quo for those who served that keeps WWTW at the top of its game, now and for as long as it's needed.
HELP US SAVE LIVES AND SHAPE FUTURES
Help us operate, help veterans succeed! Your donation runs our essential services.
Donate Now