Simon to follow in Ernest Shackleton's footsteps
25 October 2023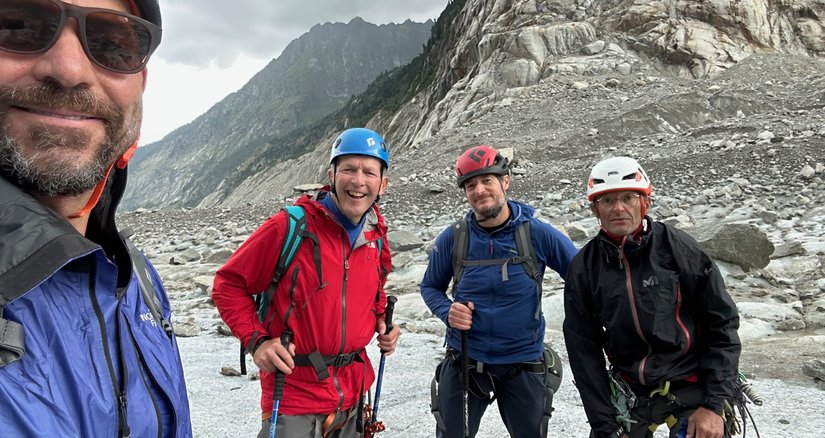 An international team, which includes Hampshire resident and founder of the executive search firm, Per Ardua Associates, Simon Hearn, is embarking on a journey to South Georgia in the Sub-Antarctic starting on November 4th. They are retracing the path of the final major expedition, led by the explorer, Ernest Shackleton, across part of the island. Simon is raising money for the leading Armed Forces charity, Walking With The Wounded.
As well as following Shackleton's route, part of Simon's team will also attempt to find Shackleton's Primus stove – left on the last leg of his journey across South Georgia– which they used for their final breakfast before descending to the station for help.
On November 4th, the expedition team will be dropped off at King Haakon Bay by RIB (Rigid Inflatable Boat). They will then ski, pulling their pulks (sledges) for 4 days and nights – much of this roped up together. The team will navigate crevasses and cross glaciers and icefields at higher altitudes.
The expedition draws its inspiration from the 1914 expedition led by Shackleton. In 1914, Shackleton and his team of 28 embarked on 'The Imperial Trans-Antarctic Expedition' with the Kings approval, as the country had just gone to war with Germany. Their goal was to cross the Antarctic by navigating the continent from one side to the other. However, their ship, 'The Endurance', became trapped in ice, drifting for 10 months and eventually sinking (found recently after 107 years). The team then drifted on ice flows for a further 5 months before eventually escaping on lifeboats they had with them, to Elephant Island in the South Shetland Islands. Shackleton and 5 others then boarded the 'James Caird' lifeboat and sailed 800 miles, eventually landing at the wrong end of South Georgia. Three of them then crossed the island, navigating treacherous mountains, glaciers and crevasses. Four months later, Shackleton had acquired a rescue ship and picked up the entire crew from Elephant Island. An extraordinary leadership story.
Commenting on the expedition, Simon said: "This will be an honour, to follow in the footsteps of such a man. I have no illusions about the challenges ahead but hopefully the rigorous training conducted over the last 8 months including running and pulling a tyre with a harness, around miles of fields will help. Importantly I am raising money for the Armed Forces charity, Walking With the Wounded who do so much for our Servicemen who have put their lives in danger for us. I am looking forward to following in the footsteps of Sir Ernest, one of our greatest explorers, and immersing myself in the adventure he and his team undertook over a century ago. His family motto was: Fortitudine Vincimus – Through endurance we conquer".