Our Mission
We're a UK military charity providing support for veterans who need it the most
OUR PURPOSE
Those who served, deserve.
MISSION
To continually pioneer and challenge established ways of thinking to ensure Walking With The Wounded leads the way in developing and delivering best in class services in veterans' support.
VALUES
Client first - We listen to our ex-service personnel and are driven by what is best for them; this is at the heart of every decision that we make.
Collaboration - In order to provide the best service for our clients, we recognise the importance of collaboration; collaboration across teams, across the sector, within regions and with key partners, such as the NHS.
Respect - We commit to treating our colleagues, clients, supporters and partners with respect. We value everyone and treat people with dignity and professionalism.
Empowerment - We strive to empower our workforce to deliver their role with pride, confidence and quality. We work to empower our clients to take steps for their future.
Integrity - We build trust through responsible actions and honest relationships.
HOW WE DELIVER IMPACT
Our Employment Programme is three times more successful in supporting clients with complex needs to achieve sustained employment than our nearest competitor.
Head Start, our mental health programme, is found to significantly improve clients' anxiety and depression.
Through our Support Care Coordination programme, 90% of clients show significant improvements in areas including managing strong feelings, positive use of time, and mental health and wellbeing.
Our reserves policy, overheads and bureaucracy are low versus other charities; we focus our funds on frontline delivery as fast as we can.
We have created and collaborated on pioneering initiatives, which have led to governmental change. We are a strategic partner within all regions of NHS Op COURAGE.
Our client-centric, integrated service model ensures a seamless, supported journey for our beneficiaries. We purposely work with small caseloads of clients most in need, ensuring they don't fall through cracks.
Download Our 2022 Impact Report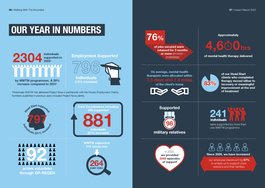 WWTW 2022 Impact Report
PDF. 1.1mb
Review our 2022 highlights, social impact and more.
Download this file
HELP US SAVE LIVES AND SHAPE FUTURES
Help us operate, help veterans succeed! Your donation runs our essential services.
Donate Now