WWTW sleep out to support CEO Sleepout Manchester
14 November 2023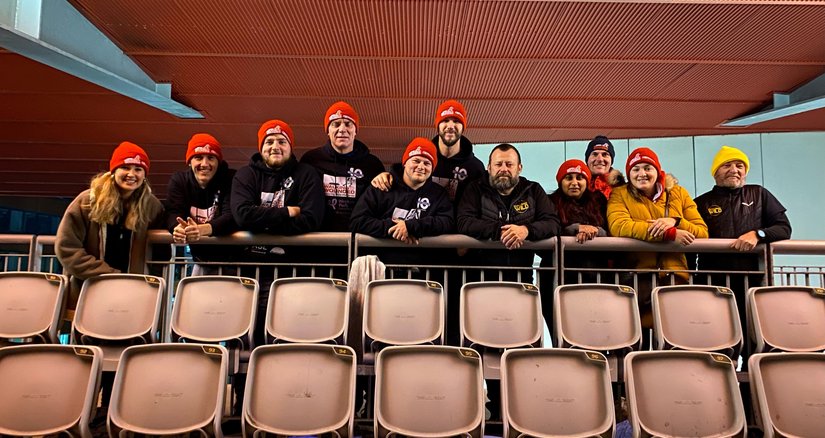 In October, staff from Walking With The Wounded's Manchester office forwent their beds for the night, instead opting to sleep out in the cold in support of CEO Sleepout.
CEO Sleepout events have supported WWTW since 2019, helping to raise thousands to change lives and support Veterans who are experiencing homelessness. Participants are challenged to raise or donate £1,000 to the cause via sponsorship or donations.
David Lowe, WWTW Operations Team Manager in the North West, commented on his experience, "It was an honour to represent Walking with The Wounded at CEO Sleepout Manchester this year. The event provides us with a great opportunity to meet with our supporters, which is always a humbling experience. After all, it is their kindness and generosity that empowers us to do what we do.
What struck me that night was the greater sense of togetherness, which came from listening to the other charities, and from speaking to the CEOs and Executives about the unique challenges faced by homeless veterans.

As we entered the stands to take group photos and to hunker down for the night, the rain began to fall on Manchester. By then, the temperature had dipped to 5 degrees and as I lay warm in my sleeping bag, I began to think about those who may not be as fortunate. After waking at 6am to the sound of rain and bags being packed, I noticed the atmosphere had changed, it was much quieter and reflective. This continued into breakfast where the group exchanged thank-you's and said their goodbyes to each other before departing.

For me, CEO Sleepout was a unique and rewarding experience and one that I'll certainly remember."
Getting involved can change someone's life for the better, so that they do not have to sleep out in the cold. Sign up today and get those sponsorships on a roll. Find out more, visit: www.ceosleepout.co.uk
Join us for CEO Sleepout London
Join your fellow business leaders, business owners, c-suite execs, directors and teams as we unite to fight homelessness. All you need is a big heart, a sleeping bag, and be willing to raise £2000.
Learn more