SUCCESS STORIES
We're proud of the veterans we support, read their stories of success
BRYN'S STORY
Life as a military veteran can often be complicated. And however resilient, sometimes we all need support. For military veteran Bryn, working with David from the Walking With The Wounded Employment Programme transformed his future, and gave him a whole new career, perspective on life and place in his community.
A proud, accomplished soldier
It's hard to phase Bryn. His 10 years' in military service has taken him to some of the hottest war zones and challenging places on Earth, including Kosovo, Sierra Leone, Northern Ireland, Iraq, and Afghanistan. Serving as an Infantryman in the elite 1st Battalion Parachute Regiment (1 PARA), part of the Special Forces Support Group, Bryn loved his Army career and excelled as a soldier.
A decade of active duty and the physical demands of military life took their toll. Bryn's body suffered significant damage, and the pain was becoming too much. After a lot of soul searching, and with much regret, Bryn had to leave the Armed Forces.
Unexpected tragedy in civilian life
As a veteran, Bryn quickly found his place within civilian life, and transferred his military expertise into a successful career in private security. Tragically, while on a job in Iraq in 2006, the car Bryn was in detonated an IED. The three passengers in the car were killed. Bryn lost his right leg and part of his bowel.
Even after this devastating event, Bryn continued to move forward. In the two years after having his leg amputated, Bryn began to walk again with a prosthetic limb, got remarried and started his own business.
Overcoming mental health problems
But sometimes life can be too much. When his business started to fail, Bryn's mental health began to deteriorate. He was overcome with feelings over the loss of his previous life. He became dependent on alcohol to mask the pain, and became withdrawn and depressed.
Bryn accessed help from the Military Veterans' Service NHS Pennine Care. Talking therapies improved his mental health and wellbeing and over time, Bryn felt ready to return to work. In 2021, 15 years after first being injured, he connected with David, a Walking With The Wounded Employment Advisor.
A new career ahead
David and Bryn talked through career options and objectives, and Bryn, excited by the possibilities ahead, decided to retrain as a Counsellor. David helped Bryn navigate the many different paths and find focus, and Walking With The Wounded helped him find and apply for the right courses, and stayed with him on his journey towards a new career.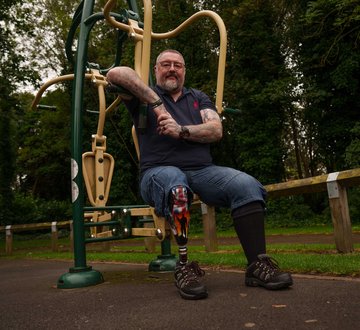 Finding meaning again
Since working with our Employment Programme for ex-military personnel, Bryn has gained qualifications in Dementia Awareness, Mental Health First Aid, and completed a Peer Navigator course. He's secured funding for further training and volunteers for Peer Support.
Working with Walking With The Wounded has given Bryn the time, space and guidance to explore the right future for him, so he can feel a valued member of his community once again. It's this unique, tailored support that means we can respond directly to the needs and challenges faced by our military veterans.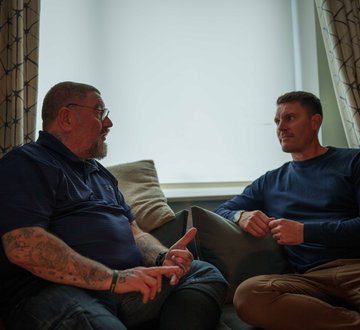 Your support changes lives

Walking With The Wounded have supported veterans like Bryn since 2010 with bespoke mental health, employment support and support care coordination. For those who have served their country and need help finding their place after military service in the Army, Royal Air Force and Navy, our essential services save and transform lives.