Sally Orange MBE launches Walking Home For Christmas
13 November 2023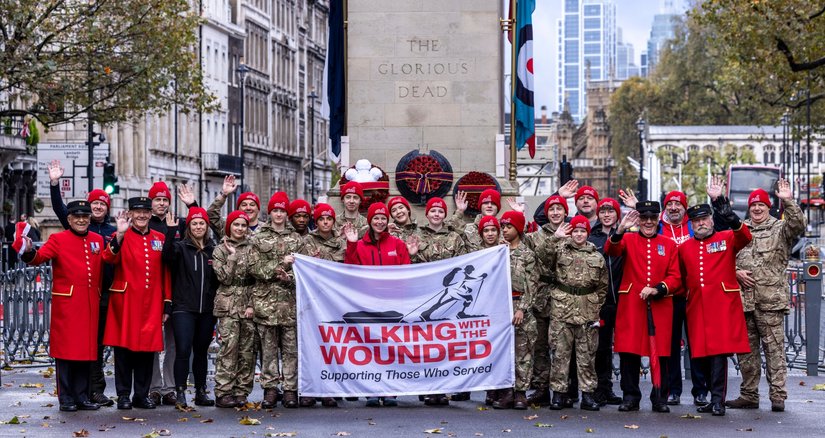 London commuters were treated to an unusual sight on Monday morning as Chelsea Pensioners, Army Cadets and Walking With The Wounded beneficiaries were led through Central London by Sally Orange MBE wearing an enormous Christmas hat costume. The festive walk was in aid of Walking With The Wounded's 'Walking Home For Christmas' festive campaign supporting those who served.
Commenting on the launch of Walking Home For Christmas, Sally said, "I am really excited to be the Ambassador for Walking Home For Christmas. I served for 22 years in the Armed Forces before unfortunately being medically discharged with chronic anxiety and severe depression in 2019. The battle with my poor mental health persisted for many years before I finally plucked up the courage to reach out for help. Finding Walking with the Wounded's Head Start mental health programme was an absolute live saver for me and I genuinely believe that I would not be here today without their support. Thanks to them I am now in a much better place and have learnt techniques to be able to manage my mental health conditions.
The holiday season is a difficult time for many, but for those who are struggling, as I have, it can be the most challenging period of the year. Walking Home For Christmas offers an opportunity to gather your loved ones and embark on a journey to raise funds and awareness for an organisation that truly saves lives."
Now entering its 10th year, "Walking Home For Christmas" stands as Walking With The Wounded's annual festive fundraising initiative. Over the past decade, this campaign has collectively raised nearly £2 million to bolster veterans and their families through programmes encompassing mental health support, employment opportunities, and care coordination services.
Tony Hulton, WWTW CEO, added, "The festive season can be a joyous time of year for many, but for others it can be exceptionally difficult, especially veterans who have struggled since their transition from the military. WWTW's Walking Home For Christmas campaign gives our supporters the opportunity to reach out to their friends and family, get out in the fresh air and raise vital funds to enable our life-saving veteran support programmes reach more of those who need it."
Walking Home For Christmas encourages the public to get out of their comfort zones and embark on a meaningful walk to show their support for Britain's veterans. The campaign takes place from Saturday, December 9th, to Wednesday, December 20th. This challenge offers an ideal opportunity to beat the winter blues, get out into the fresh air with family, friends and workmates and raise money for a worthwhile cause.
Walkers from previous years have dedicated their walks to loved ones who have been in or have fallen serving our country, have walked to a war memorial, run errands for friends and family or supported their local community.
If you would like to support veterans like Bryn during the Christmas period, consider signing up to and fundraising for Walking Home For Christmas.